TSUKI-ITA (WOOD VENEER) SHEET
We can produce Tsuki-ita (wood veneer) sheet affixed to Japanese paper(washi) in the wood type and size according to your choice.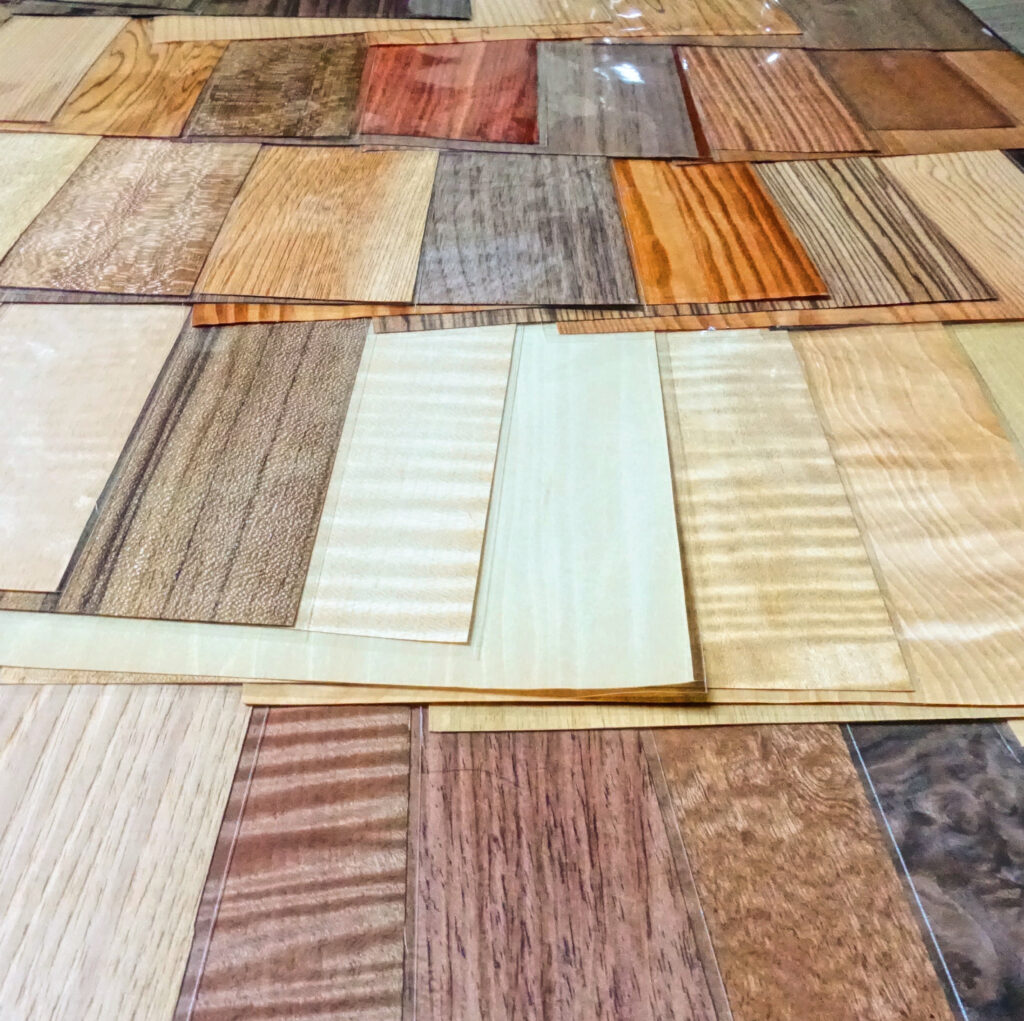 [WOOD TYPE]
MORI KOUGEI has been specializing in the processing of decorative plywood for many years and handles a wide variety of wood types, including rare species that are difficult to obtain today.
Please refer to this page for your selection.
We have a wide variety of wood in an assortment of colors, grown in various regions of the world.
Some wood types may not be available due to circumstances beyond our control.
Normally, the thickness is increased by about 0.05mm by applying Japanese paper. *In case of 0.2mm veneer will be 0.25mm with Japanese paper.
[Processing size]
Width: 1200mm / Length: about 2400mm (length depends on the size of the wood veneer)
Please contact us if you need a size larger than 1200mm x 2400mm.
Fixed length (3×6/3×7/3×8/4×6/4×8) sizes are relatively inexpensive.

[Example of use]
For edges of wooden furniture, etc.
When making furniture using decorative plywood, if the thick part of the plywood or MDF is visible, this part may be covered with wood veneer sheet afterward.
By attaching Japanese paper to the back side of a veneer sheet, it becomes easier to use.
This veneer sheet can be used for repairing and applying to flat wooden surfaces such as furniture and interior decorations.
Please flatten the surfaces of the base with sandpaper so that there are no uneven parts before use.
When it is used for wood inlaying/marquetry, the use of wood veneer sheet, which is affixed with Japanese paper, allows for delicate processing. This is because it is relatively easy to arrange, even for smaller and delicate cuts.
It can be used on laminated boards for speaker boxes, such as plywood, MDF, etc.
[About ironing]
It can be applied with a household iron.
We recommend the use of a special glue that can be applied to the base material (the object to which the veneer is affixed) and used after it dries.
This allows you to apply the wood veneer sheet after the glue has dried, so unlike ordinary glues, you can apply it without being restricted by time.
Adhesive for professional use for ironing on wood veneer
CH7WN Vinyl acetate resin-based emulsion type adhesive by KONISHI Co.
F4-star grade
[How to use]
Apply this glue to both the base material (the object to be affixed) and the wood veneer, and wait until the adhesive is completely dry (until the white adhesive becomes transparent).
If the surface of the base material is not in good condition, apply the glue to 80-90% of the base material side, and 50-60% of the wood veneer sheet side, both half dry. Doubled gluing is also effective.
Approximate amount (glue) to be applied: approx. 10 g per 30 cm square
Double the amount to 20 g since the glue is applied to both the base material and the wood veneer.
The volume of the glue may vary depending on the application method.
After the glue dries, press the wood veneer sheet down with an iron and heat to affix.
This glue melts and adheres when it is heated to around 80 degrees Celsius, so it can be adhered even if there is some time left after the adhesive has dried. However, it is preferable to work on the same day.
The ironing temperature should be set at 100 to 200°C. You may apply the iron directly to the wood sheet, but it is recommended to use a cloth that can be easily heated, such as a thin cotton cloth, like Japanese tenugui (towel), to prevent scratches and burns.
Even with a cloth, if the iron is left in the same spot, it may burn at high temperatures and discolor the veneer sheet. So please keep the iron in motion.
If you are not skilled in this method, it is advisable to apply it at about 100°C.
However, if the temperature is not high enough, the adhesion will fail.
If the surface of the veneer sheet becomes loose due to air bubbles, etc., it can usually be fixed by piercing the veneer sheet with a needle or cutter knife and then reattaching it with an iron so that it is inconspicuous after removing the air.
[Order process]
Inquiry: Please contact us first. 
Proposal: We give you a proposal of wood type and color that matches your image.
Submission of quotation: We will provide you with a quotation based on our proposal.
Order: If you accept the contents of the quotation, please contact us to place an order.
Payment: We will send you an invoice with payment information by email. Please make your payment by PayPal or bank transfer.
Delivery: We will arrange delivery to the indicated destination.
[QUOTATIONS]
The quotation for Tsuki-ita (wood veneer) sheet is calculated based on the following items.
Please let us know your requested wood types, image, and color when you contact us.
If you do not have a specific wood type you would like to have, we will suggest one based on your chosen image and color.
Once we have determined the wood types and required quantity, we will send you a quotation by email.
[About Ordering]
After you accept our estimate, we will send you an invoice with your payment information by email.
– Please make your payment via PayPal or bank transfer.
– Once payment is confirmed, your order will be placed.
We sell small quantities from A4 size, so please inquire us.
We can produce in width: 1200mm / length: 2400mm (length depends on the size of the wood veneer). Please feel free to contact us.
We accept orders from all over the world.
Please inform us of the import restrictions in your country.
If you are not sure, please contact us and we will do our best to find out.
When shipping MORI KOUGEI products overseas, import duties and consumption taxes may apply. MORI KOUGEI is not responsible for any duties or consumption taxes.
[About the delivery date]
We have many types of A4 size wood veneer sheets in stock, but others are made to order.
We will inform you of the delivery date in about three business days for the wood types that are in stock.
For wood types not in stock or during peak season, we will inform you of the delivery date when you contact us.
[Shipping Information]
Since the product is as thin as 0.25 mm, we will ship large-size products rolled up.
Smaller sizes, such as A3 size, will be shipped with the product sandwiched between two sheets.
Shipping costs vary depending on the region and size, so please contact us for more information.
[Frequently Asked Questions]
Q: Can it be applied to curved surfaces?
A: Although it is sometimes a little difficult to apply with ironing, it can be applied to two-dimensional flat surfaces. It will have wrinkles when it is attached to three-dimensional flat surfaces such as spheres.
[About Glue]
Adhesives used for wood veneer sheets:
CHR70 Vinyl acetate resin emulsion type adhesive by Konishi Co.
F4-star grade
[Regulations regarding formaldehyde]
Laminated plywood produced by MORI KOUGEI is made from F4-star grade raw materials that conform to JIS and JAS standards.
[Made-TO-ORDER furniture]
MORI KOUGEI can handle various types of wood processing.
Please feel free to contact us with requests such as "I want to have some furniture like this."
[Company Profile]
Company Name : MORI KOUGEI CO.,LTD.
Established : June 10, 1970
Capital stock : 5 million yen
Representative Director: Ken'ichi Mori
Main facilities : Guillotine wood slicer, gluing machine, hydraulic hot press, wide belt sander
Business description : Manufacture and sale of decorative plywood, wood inlay processing, planning/manufacture and sale of wooden furniture and miscellaneous wooden goods, export and sale of products, manufacture and sale of arts and crafts
Address : 3-5-34 Suehiro, Tokushima City, Tokushima Prefecture, 770-0866, Japan
Phone number : 088-653-7518
MAIL : info@mori-kougei.com
Please feel free to contact us for more information.