DESIGNED PLYWOOD
We can express your image with wood. We can inlay traditional patterns such as checkerboard and arrow feathers, as well as illustrations and letters on wood.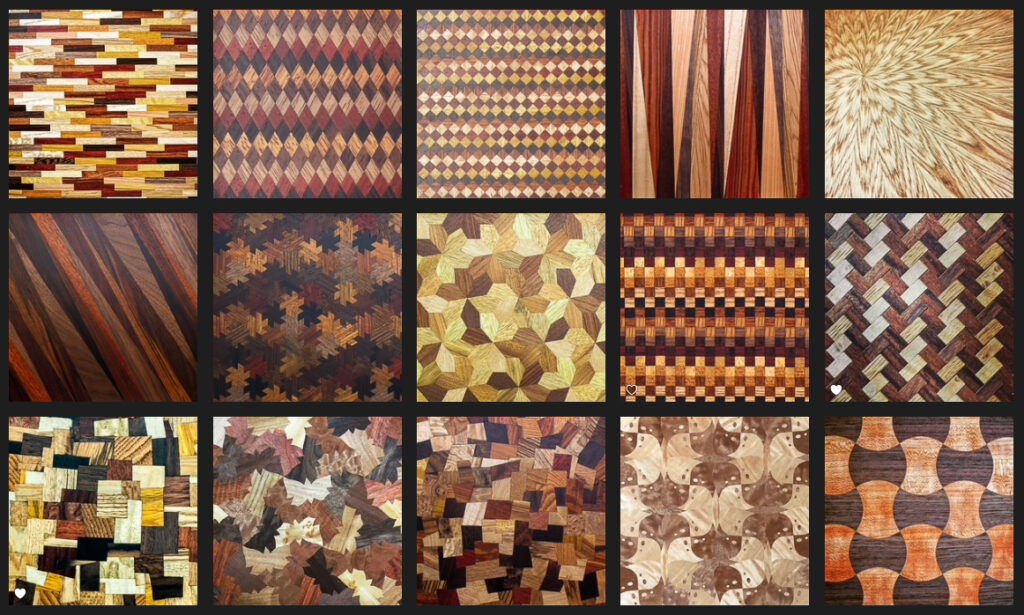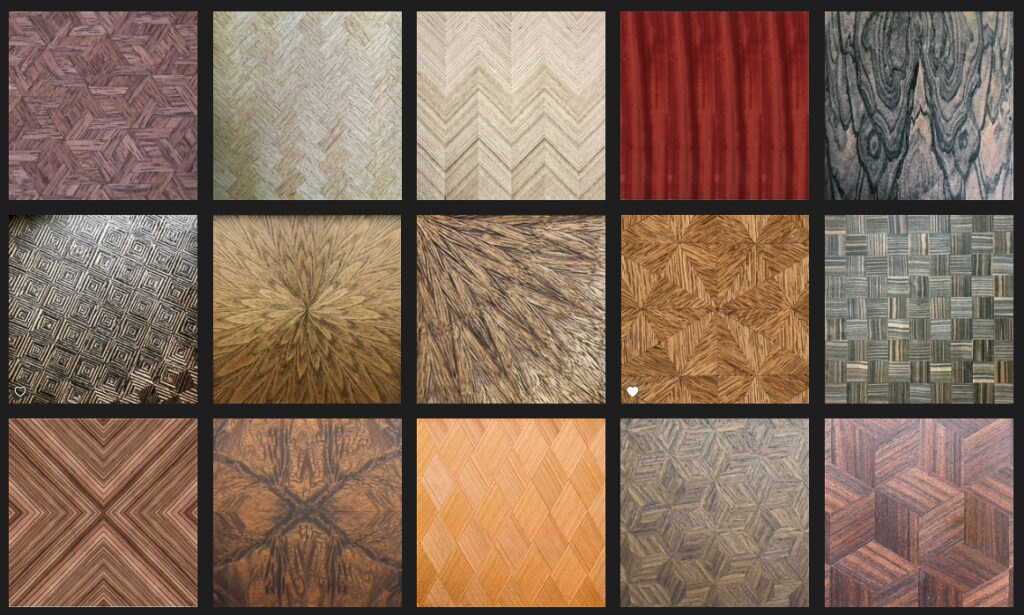 Please feel free to contact us for suggestions based on our extensive experience and knowledge of wood.
[ABOUT Mori Kougei]
Since its establishment in Tokushima in 1953, MORI KOUGEI has been specializing in the application of "tsuki-ita," wood veneer or paper-thin slices of wood, to decorative plywood.
We have inherited from generation to generation the techniques and knowledge of wood that we have cultivated over the years. Thus we are able to offer a variety of designs by devising new ways to laminate wood, combining various colors of wood, and so on.
At MORI KOUGEI, we believe that a lifestyle with wood enriches and nurtures our spirits.
We would be happy to play a role in giving shape to our customers' thoughts and ideas by proposing objects and spaces that bring a sense of peace and tranquility to their lives.
[Pasting Patterns]
MORI KOUGEI has unique patterns developed originally as well as ordinary lamination methods.
We pay close attention to our customers' images and make proposals accordingly.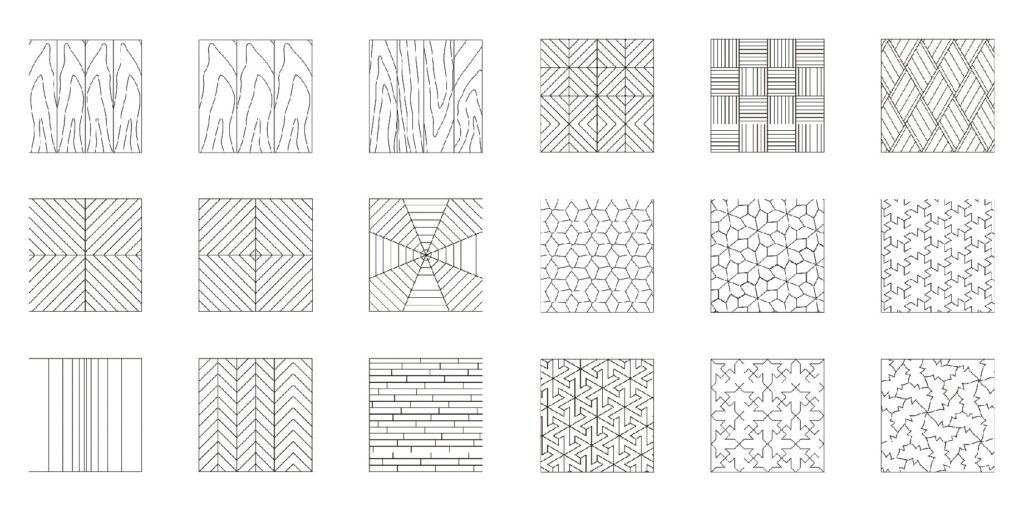 Even when simply composed of a single wood type or color, a special design can be created by combining them in different ways.
It is also possible to create a colorful and impressive design by using multiple wood types.
[Wood inlay/marquetry]
We can inlay letters, logos, illustrations, and original designs with wood grains.
Delicate designs can be inlaid on wood.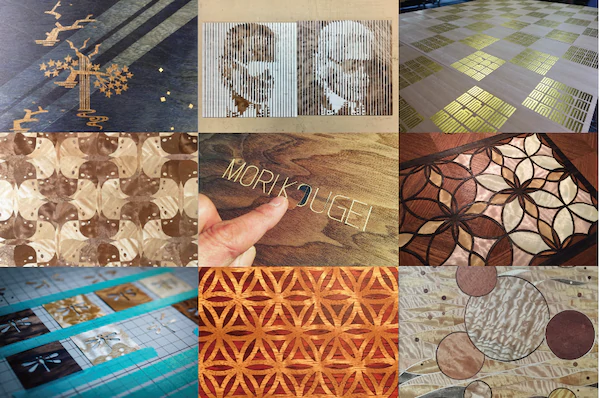 [Processing size]
The processing size varies depending on the lamination pattern.
For designs that require awareness of the expansion and contraction of the wood due to the adhesion process, we will provide you with processing sizes based on our assumptions about the processing.
For simple patterns, large sizes can generally be processed without a problem.
In the case of wood inlays/marquetry or complex lamination patterns, there may be a limit to the size that can be processed depending on the design.
[Simple lamination pattern]
Width: 1200mm / Length: up to about 3600mm (length depends on the size of the wood veneer)
[Wood inlays/marquetry and complex lamination patterns.]
Patterns vary depending on the design. Please contact us for details.
[wood TYPE]
Mori Kogei has been specializing in the processing of decorative plywood for many years and handles a wide variety of woods, including rare species that are difficult to obtain today.
Please refer to this page for your selection.
We have a wide variety of wood in a wide variety of colors grown in various regions of the world.
*Some wood types may not be available due to circumstances beyond our control.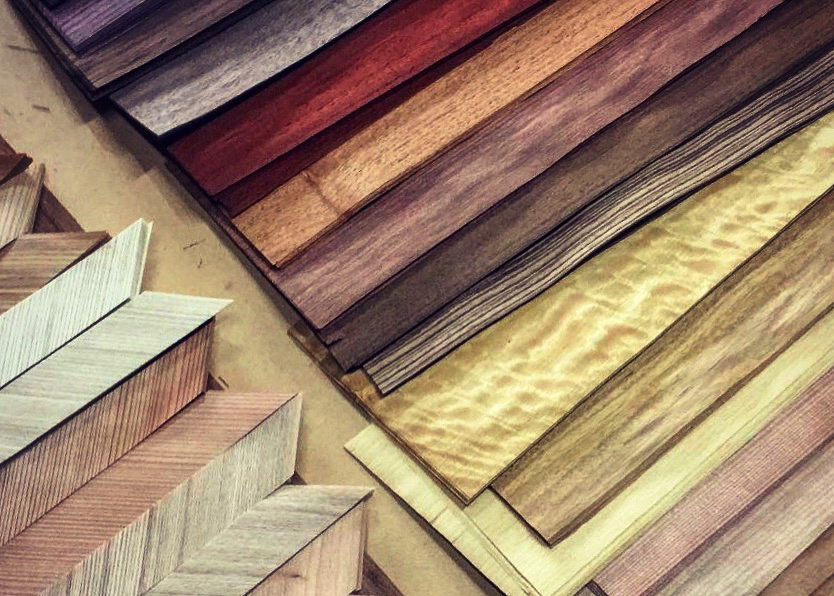 [Framing and finishing]
In addition to framing as art panels and wooden signs, we can also process into furniture products such as tables.
[About the base material]
We apologize for any inconvenience caused by the current shortages and price hikes. We will inform you about our stock status when you contact us.
Lauan plywood: 2.5/4.0/5.5/9.0/12.0/15.0/18.0/21.0/24.0 (mm)
Linden plywood: Please inquire
Bent linden: please inquire
MDF: 2.5/4.0/5.5/9.0/12.0/15.0/18.0/21.0/24.0 (mm)
Water-resistant MDF: 2.7/12.0 (mm)
[Order process]
Inquiry: Please contact us first. 
Hearing: Send us an email to discuss the purpose of use, image, etc.
Proposal: We give you a proposal of wood types, colors, and application patterns that match your image.
Submission of quotation: Within 3 business days after the hearing your response to our proposal.
Order: If you accept the contents of the quotation, please contact us to place an order.
Payment: We will send you an invoice with payment information by email. Please make your payment by PayPal or bank transfer.
Delivery: We will arrange delivery to the indicated destination.
[QUOTATIONs]
The quoted price for designed plywood is calculated based on the following items:
Number of parts (pieces of wood)
We would appreciate it if you could share any photos or images you have when you contact us.
We will send you a quotation by email once the detailed specifications have been decided.
[Ordering]
After you accept our price on quotation, we will send you an invoice with your payment information by email.
※Please make your payment via PayPal or bank transfer.
※Once your payment is confirmed, your order will be placed.
Please feel free to contact us for consultation.
Please feel free to contact us for custom-made furniture, stores, facilities, etc.
We accept orders from all over the world.
Please inform us of the import restrictions in your country.
If you are not sure, please contact us and we will do our best to find out.
When shipping MORI KOUGEI products overseas, import duties and consumption taxes may apply. MORI KOUGEI is not responsible for any duties or consumption taxes.
[delivery]
The product will be delivered with a #240 belt sander finish (unpainted).
If you wish to have a painted finish, etc., please let us know at the time of inquiry.
[delivery date]
For small quantities, we will ship within about 3 business days after the order for wood types in stock.
For orders of more than 50 pieces, or orders with designs classified as designed plywood, we will advise you of the delivery date when you contact us.
For wood types that are not in stock or during peak season, we will advise you of the delivery date when you contact us.
[Shipping Information]
Once the product is completed, we will pack it tightly with corner covers etc., and arrange for delivery to the indicated destination.
Please inform us the delivery address.
Shipping costs vary depending on the area and size of the product, so we will inform you of them when you give us an inquiry.
[About Glue]
Adhesives used for wood veneer sheets:
CHR70 Vinyl acetate resin emulsion type adhesive by Konishi Co.
F4-star grade
[Regulations regarding formaldehyde]
Laminated plywood produced by MORI KOUGEI is made from F4-star grade raw materials that conform to JIS and JAS standards.
[Made-TO-ORDER furniture]
MORI KOUGEI can handle various types of wood processing.
Please feel free to contact us with requests such as "I want to have some furniture like this."
[Company Profile]
Company Name : MORI KOUGEI CO.,LTD.
Established : June 10, 1970
Capital stock : 5 million yen
Representative Director: Ken'ichi Mori
Main facilities : Guillotine wood slicer, gluing machine, hydraulic hot press, wide belt sander
Business description : Manufacture and sale of decorative plywood, wood inlay processing, planning/manufacture and sale of wooden furniture and miscellaneous wooden goods, export and sale of products, manufacture and sale of arts and crafts
Address : 3-5-34 Suehiro, Tokushima City, Tokushima Prefecture, 770-0866, Japan
Phone number : 088-653-7518
MAIL : info@mori-kougei.com
Please feel free to contact us for more information.