TABLETOP
We can produce table tops in any size and with any wood type or color you desire.

First of all, please let us know your VISION.
We can also make suggestions on the type of wood, colors, pattern of lamination, etc.
[Selecting the type of Wood]
MORI KOUGEI has been specializing in the processing of decorative plywood for many years and handles a wide variety of wood types, including rare species that are difficult to obtain today.
Please refer to this page for your selection.
We have a wide variety of wood in an assortment of colors, grown in various regions of the world.
*Some wood types may not be available due to circumstances beyond our control.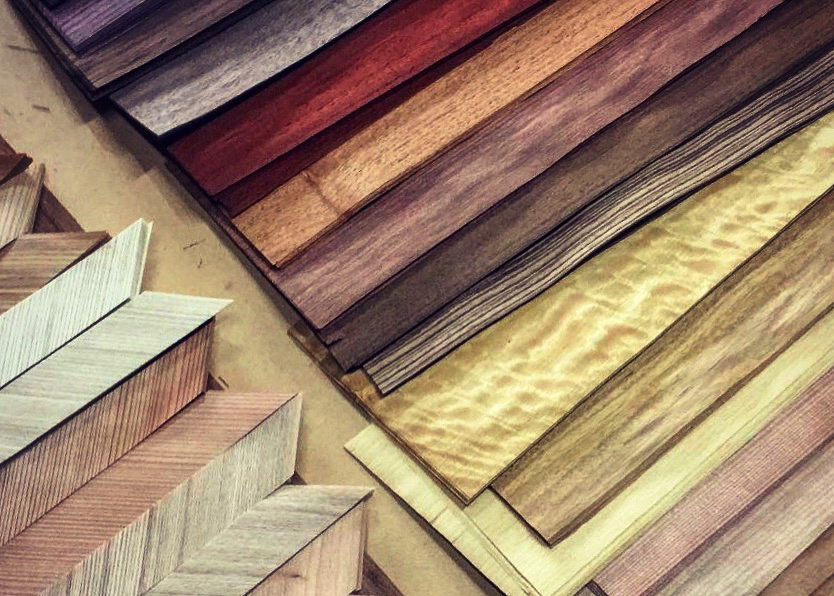 [CHOICE of the shape]
Rectangular is the basic shape, but other shapes are also available upon request (circular, oval, octagonal, hexagonal, deformed).
[DeterminATION of the size]
We can produce dining tables, living tables, center tables, side tables, low tables, cafe tables, desks, etc. in any size you wish.
Please notify us if the size exceeds 1200mm x 2400mm.
[About the shape of the cut end (edge)]
Please let us know your preference for the edge shape of the top panel.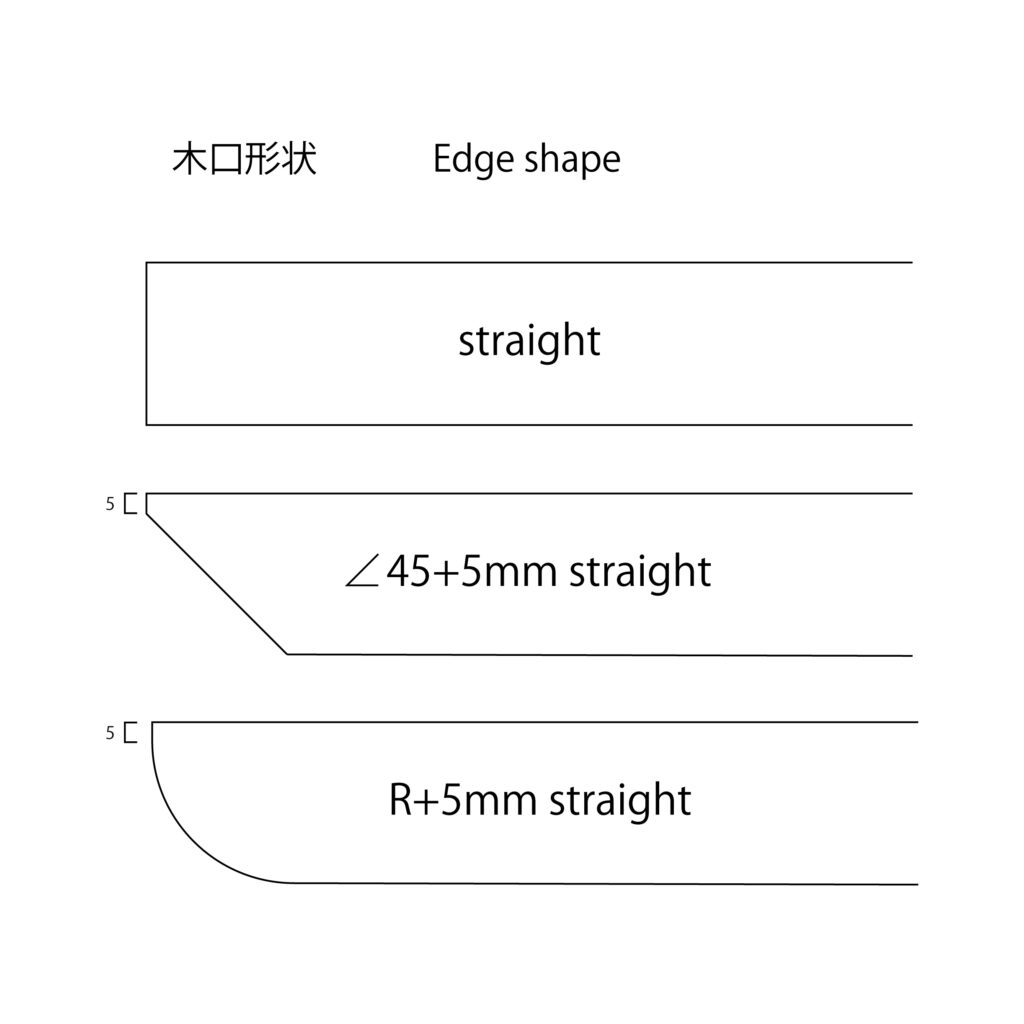 [Select a pattern for Lamination]
MORI KOUGEI uses original lamination patterns and wood inlaying techniques to express your designs in wood.
We will create an original design after consulting with you about the image and color you have in mind.
Patterns can be made by referring to the illustrations below.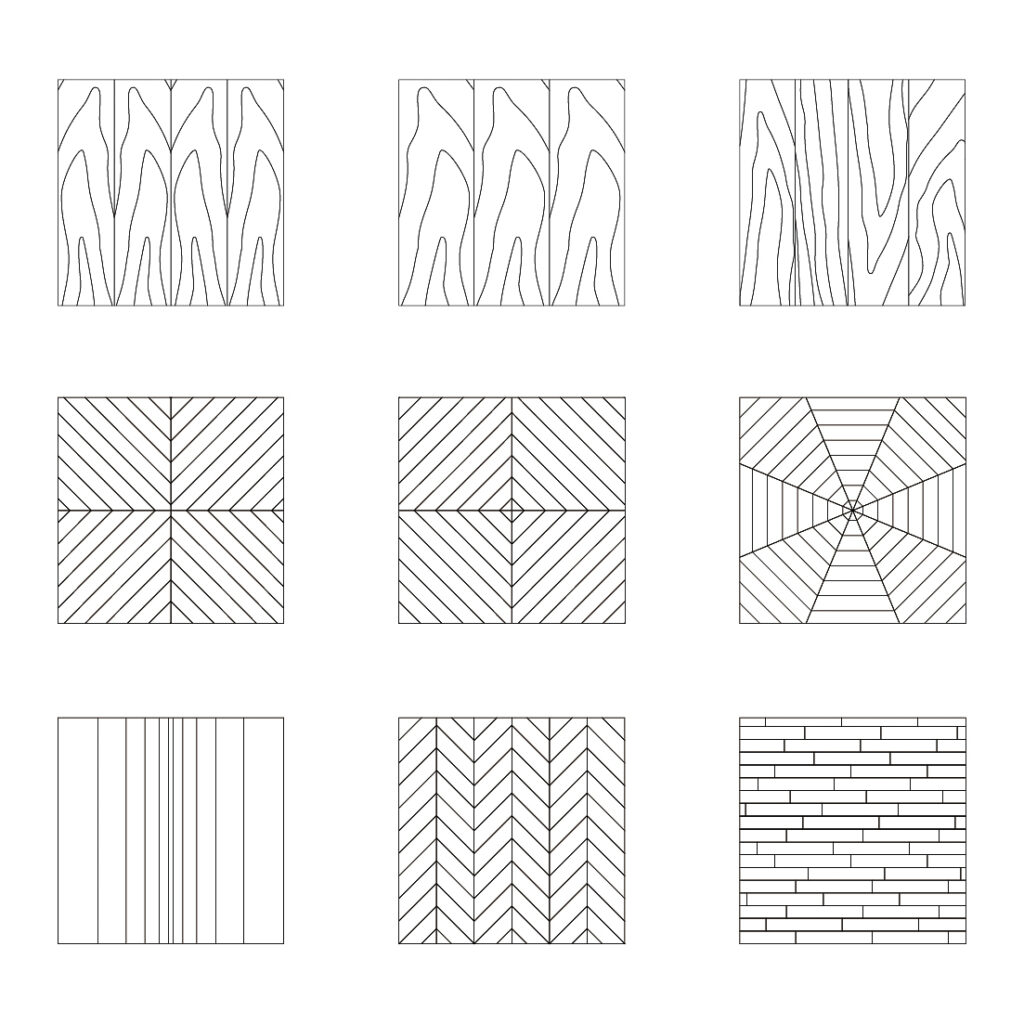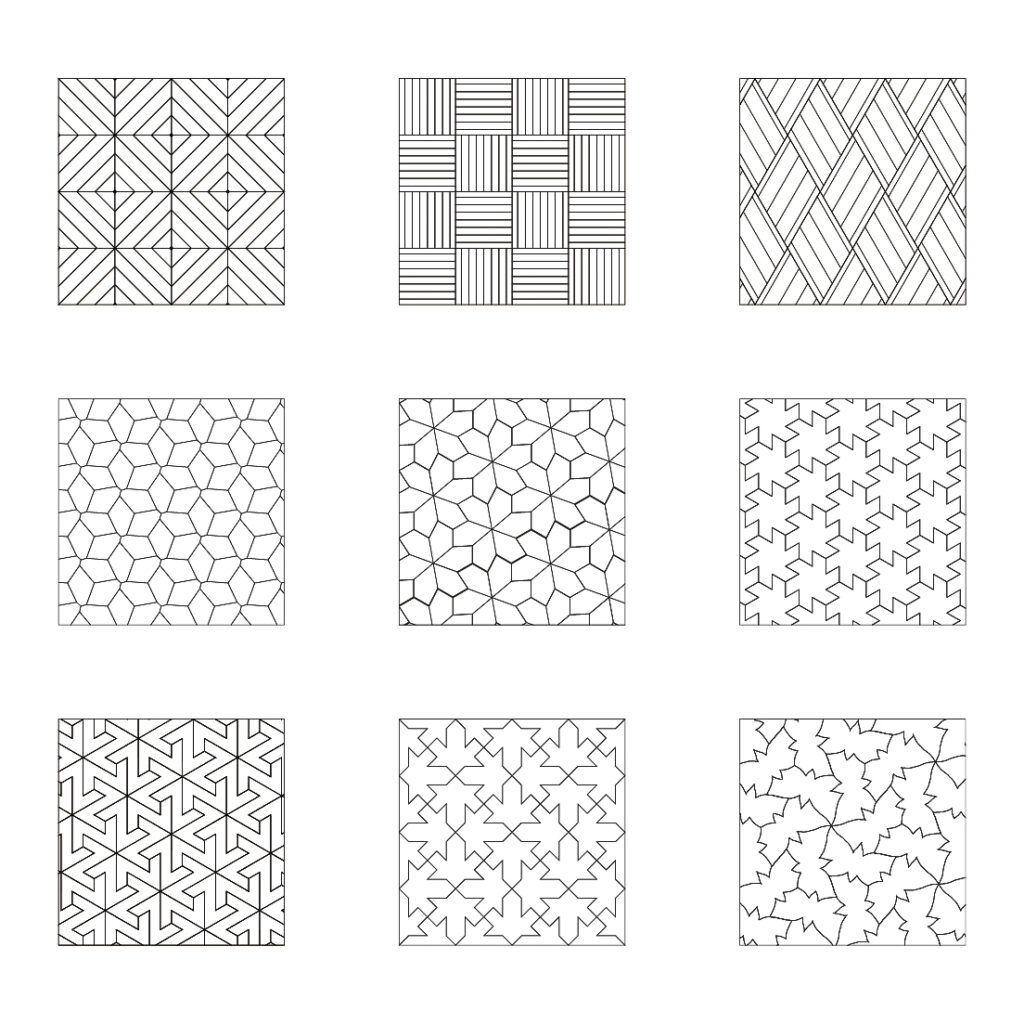 [Wood inlaying/marquetry]
Letters, illustrations, and photographs can be inlaid with wood grains.
Delicate designs can be inlaid on wood.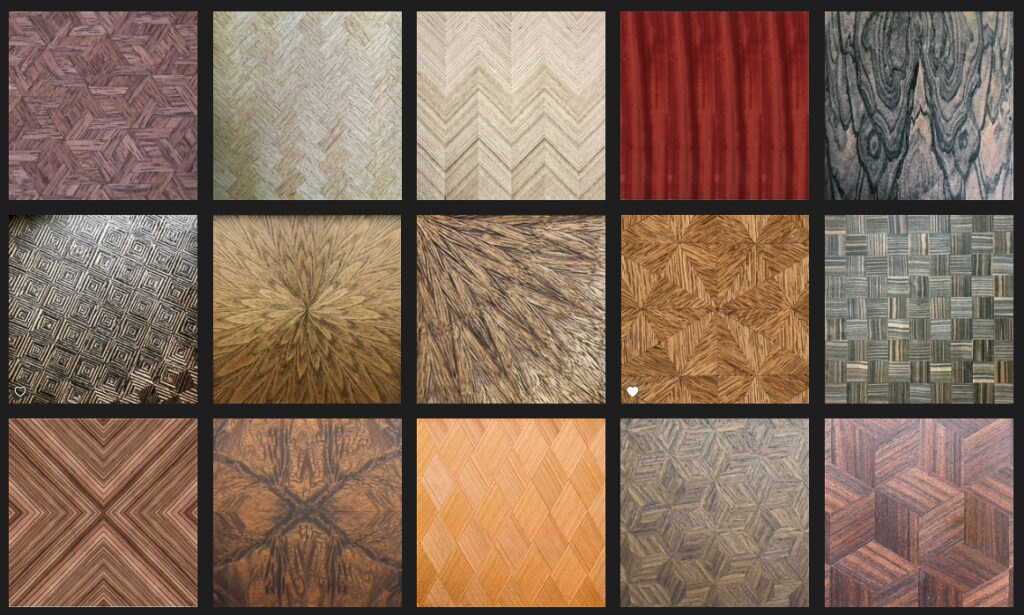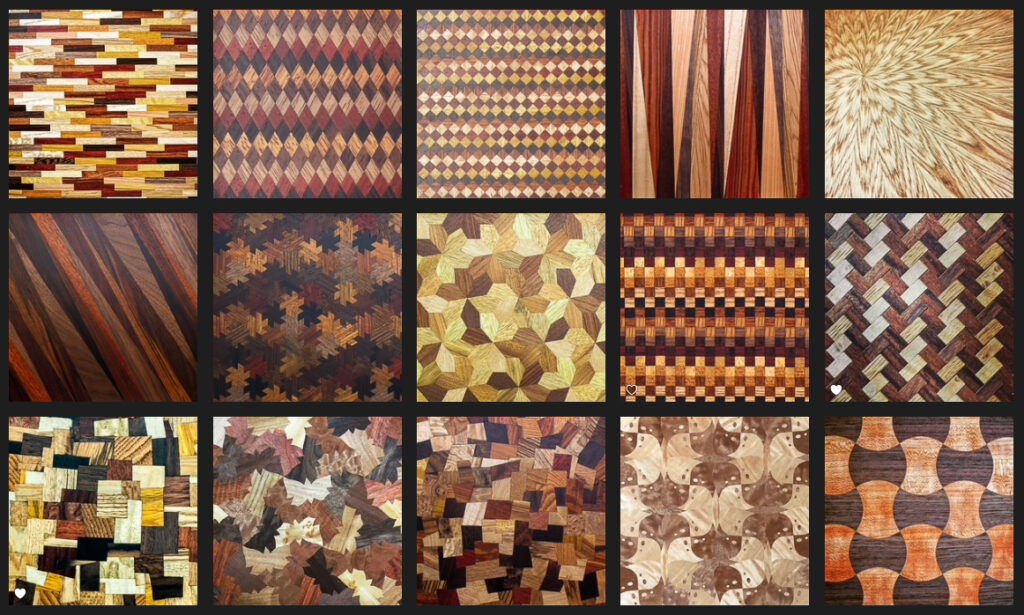 The size of the wood veneer that makes up the pattern can be adjusted to fit your desired top board size.
We can also create original designs such as letters and illustrations with wood inlays/marquetry.
We can create a simple combination using a single wood type or a colorful combination using multiple wood types, and an unlimited number of combinations are possible.
[Recommended Lamination patterns for table tops]
Kosen-bari (ray of light) pattern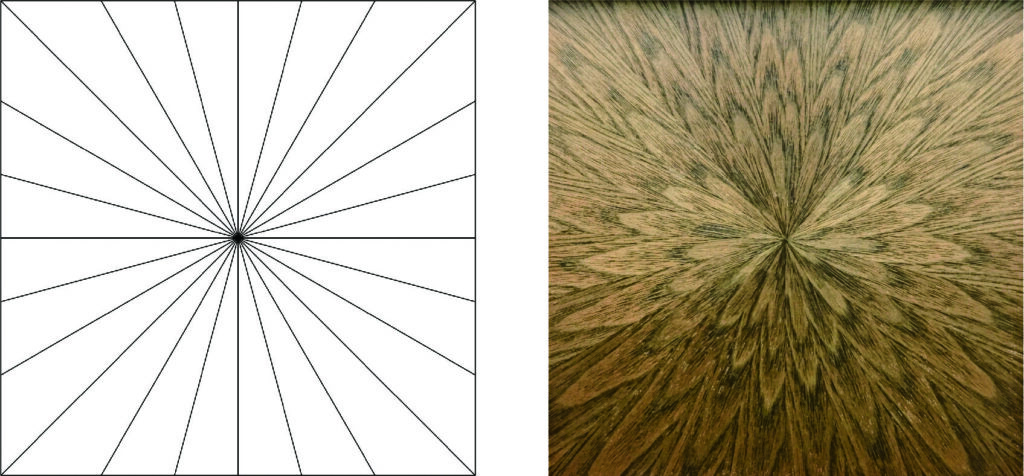 [Recommended wood types for Kosen-bari]
African paddock, Wenge, Walnut, Quince, Ebony, Zelkova, Sapele, Cedar, Zebrawood, Sen (Kalopamax Pictus), Sono Keling, Japanese Ash, Teak, Oak, Bubinga, White Ash, White Oak, White Sycamore, Mahogany, Paldao, Rosewood, etc.
[Base material ForTable top]
Surface material: wood veneer with base material of Lauan plywood, water-resistant MDF, etc.
Core material: Lumber core, particle board, paulownia wood, etc.
[About Finish/Coatings]
You can choose from oil finish, urethane coating, Cerawood coating, and mirror coating.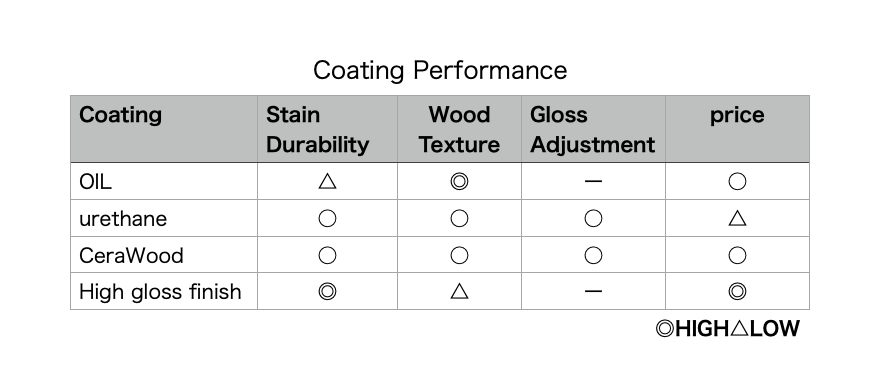 If the feel and texture of the wood is important, oil coating is a good choice, but it is not recommended for table tops due to its low durability against stains.
A thicker coating makes the tabletop more resistant to stains, but the feel and texture of the wood is compromised.
If you are looking for a good balance between texture and durability, we recommend using urethane or CeraWood coating.
Mirror coating gives a high-quality finish and a uniquely luxurious atmosphere to some wood types. 
[About the color]
If you wish to coordinate colors with other interiors, please provide us color samples that are close to them. We will try to find the best match possible.
We offer indigo dyeing using indigo plants produced in Tokushima Prefecture.
[About the legs]
We accept orders for table tops only, but we can also produce them including legs.
We can also provide information on original designs and ready-made products, so please feel free to contact us.
[Order process]
Inquiry: Please contact us first. 
Hearing: We discuss size, color, etc. via email.
Proposal: We give you a proposal of wood types, colors and application patterns that match your image.
Submission of quotation: Within 3 business days after the hearing your response to our proposal.
Order: If you accept the contents of the quotation, please contact us to place an order.
Payment: We will send you an invoice with payment information by email. Please make payment by PayPal or bank transfer.
Delivery: We will arrange delivery to the indicated destination.
[Quotations]
Estimates for table tops are calculated based on the following items
We will send you a quotation by email once the detailed specifications have been decided.
[Ordering]
After you accept our price on quotation, we will send you an invoice with your payment information by email.
※Please make your payment via PayPal or bank transfer.
※Once your payment is confirmed, your order will be placed.
Only tops can be ordered, but we can also suggest legs that match the size and color.
Please feel free to contact us for custom-made furniture, stores, facilities, etc.
We accept orders from all over the world.
Please inform us of the import restrictions in your country.
If you are not sure, please contact us and we will do our best to find out.
When shipping MORI KOUGEI products overseas, import duties and consumption taxes may apply. MORI KOUGEI is not responsible for any duties or consumption taxes.
[delivery date]
After receiving your order, we will inform you of the delivery time, which is usually within about 60 days.
For complex designs and busy periods, such as wood inlays/marquetry, we will provide you with an approximate delivery date when you contact us.
[delivery]
We will arrange delivery to your indicated destination.
Shipping costs vary depending on the area and size of the product, so we will inform you when you give us an inquiry.
[About Glue]
Adhesives used for wood veneer sheets:
CHR70 Vinyl acetate resin emulsion type adhesive by Konishi Co.
F4-star grade
[Regulations regarding formaldehyde]
Laminated plywood produced by MORI KOUGEI is made from F4-star grade raw materials that conform to JIS and JAS standards.
[Made-TO-ORDER furniture]
MORI KOUGEI can handle various types of wood processing.
Please feel free to contact us with requests such as "I want to have some furniture like this."
[Company Profile]
Company Name : MORI KOUGEI CO.,LTD.
Established : June 10, 1970
Capital stock : 5 million yen
Representative Director: Ken'ichi Mori
Main facilities : Guillotine wood slicer, gluing machine, hydraulic hot press, wide belt sander
Business description : Manufacture and sale of decorative plywood, wood inlay processing, planning/manufacture and sale of wooden furniture and miscellaneous wooden goods, export and sale of products, manufacture and sale of arts and crafts
Address : 3-5-34 Suehiro, Tokushima City, Tokushima Prefecture, 770-0866, Japan
Phone number : 088-653-7518
MAIL : info@mori-kougei.com
Please feel free to contact us for more information.